Randy Roark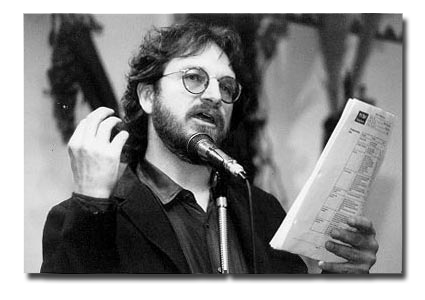 Randy Roark arrived in Boulder in November 1979 to apprentice with the poet Allen Ginsberg as he assembled his Collected Poems, and continued to work in various capacities with the poet until Ginsberg's death in 1997. He has transcribed, edited, annotated, and indexed over 28,000 pages from Ginsberg's lectures on poetry, and edited portions of this material into an unpublished manuscript on William Blake's Songs of Innocence and Songs of Experience. He also edited the booklet accompanying Ginsberg's 4-CD retrospective ("Holy Soul Jelly Roll") for Rhino Records, in addition to many other articles and texts published in various magazines and books, including an entire issue of "The New Censorship."
He has studied the poetry of Ezra Pound with Olga Rudge and Mary de Rachewiltz at Brunnenberg Castle in Dorf Tirol, Italy; the writings of James Joyce with the author's nephew in Dublin, Ireland; and the work of poet Philip Whalen at his Zen center in San Francisco. From 1984-1986 he hosted "Musical Retrospective," a radio show on KAIR, Boulder, featuring audio documentaries on subjects such as Brian Eno's Obscure label, Laurie Anderson, the Sex Pistols, and each year's Rock and Roll Hall of Fame nominees. In 1990, he traveled and studied British folk music with members of Fairport Convention, Richard Thompson, Robin Williamson and others in England, Scotland, and Wales. Since 2010 has hosted a YouTube channel featuring music he's collected in his travels in Morocco, Africa, India, Nepal, Tibet, and China.
He served as board member (1998-2000) and vice-president (2000) of the Arts and Humanities Assembly of Boulder.
He is the author of LIT: A Distillation of the Norton Anthologies of Literature (Laocoon Press, 2008); The Convalescence Notebook (Laocoon Press, 2008); What Have I Become: The Travel Notebooks (Laocoon Press, 2007); Map of the World (Laocoon Press, 2007); Happiness (Laocoon Press, 2007); Elegies for the Post-Modern American Poets (Elik Press, 2004, reprinted and revised for LIT); The San Francisco Notebooks (Elik Press, 2003, reprinted and revised for What Have I Become); Jean Cocteau: The First Half (Laocoon Press, 2003)—a documentary film which opened Hofstra University's "Jean Cocteau: Writing with Light" Film Festival in October 2003; Dissolve: Screenplays to the Films of Stan Brakhage (Cityful Press, 2002), a recommended title by Small Press Distribution in January 2003, and featured on their catalog's cover Spring-Summer 2003; Mona Lisa's Veil: New and Selected Poems, 1979-2001 (Baksun Books, 2002); One Night (on Acid from the Grateful Dead) Nest Egg Books, 2001; Hymns (Dead Metaphor Press, 2000); and Awakening Osiris (Selva Editions, 1996).
In 2005, he wrote an illustrated, 200-page workbook on sacred Greek ritual, practices, architecture, and music for percussionist Layne Redmond and ten of her women drummers, and traveled with them to perform rituals at sites sacred to Dionysos and Aphrodite in Greece and Cyprus in 2005 and 2009. Writings on his work with Layne can be found in What Have I Become, Newtopia magazine's on-line archives, and a blog on his work as a producer for Sounds True (where he met Layne as her editor for Chanting the Chakras, and as producer for two of her CDs, "Invoking the Muse," and "Heart Chakra Meditations").
Since his trip to Greece and Cyprus in 2005, he has been working on a 10-year project to travel twice a year to places of special meaning to him, culminating in his final trip in 2015, where he returned to Greece to distribute Layne Redmond's ashes at the beehive tomb/treasury of Atreus/Agamemnon in Mycenae, the Muse's spring in Delphi, and Aphrodite's cave on the side of the Acropolis in Athens to fulfill a promise he made to Layne shortly before her death in October 2013. Over 200,000 words of this work (The Decalogue) have appeared in 42 columns (illustrated with his photographs) for the on-line arts and culture magazine, "Newtopia" (archived at newtopia.org) between 2011 and 2014. These columns include pieces written about Morocco, northern India and Nepal, China and Tibet, and on safari in southern Africa.
His long poem on alchemy, "A Map of the World," (from A Map of the World, Laocoon Press) was selected for a special presentation at the International Congress of the University of Aarhus, Denmark, in December 2001. First Thought, Best Thought (a collection of four lectures on writing by Allen Ginsberg, William Burroughs, Diane di Prima, and Anne Waldman) was released as a 4CD set in 2004, and was a featured selection by Barnes and Noble for Poetry Month that year. Since 1991, he has published over 40 volumes of original prose and poetry and art criticism under his Laocoon Press imprint.
His literary arts magazine, "FRICTION" (1983-1996) was nominated for a Pushcart Prize by Robert Creeley in 1985. It included issues such as "Obscure Genius" (edited by Allen Ginsberg); "Documents from the Jack Kerouac Conference 1982"; "The Clark Coolidge Issue"; and "The Ira Cohen Issue." In 2001, following the attack on the World Trade Center, he began an on-line literary journal based in NYC–for immediate release–with the help of activist poet Jackie Sheeler.
His poetry, prose, interviews, and essays have appeared in numerous anthologies, including Once Shamans, Now Poets (Poets' Press, Scotland, 2004), Poems from Penny Lane (2004), A Poet's Alphabet (Tree House Press, 2000), Disembodied Poetics (University of New Mexico Press, 1996), Locomotives and Sunflowers (Nada Press, 1997), A Vow to Poetry (Coach House Press, 2001), A World of Poetry (A World of Poetry Press, 1976), In Memoriam Allen Ginsberg (Wright State University Press, 1997), "Battery: Live at Naropa 1974-2002″ (2003), a live CD anthology by Anne Waldman; "Rattle Up a Deer: Bernadette Mayer and Anne Waldman Live at Penny Lane" (2003); Views, a collaborative work with artists and poets Tree Bernstein, Darrin Daniel, and Laura Wright (Tree House Press, 2002), and Dialogue of a Hundred Preoccupations (with Tamra Spivey, Laocoon Press, 2002). In 2001, he guest-edited an edition of "The Arts Paper" on the history of Boulder poetry.
He has lectured at the University of Colorado (Boulder), Metropolitan State College (Denver), Niwot High School (Boulder), Fairview High School (Boulder), September School (Boulder), the Menzel Arts Centre (Denver, Colorado), and Naropa University (Boulder).
He has performed internationally, incorporating the use of projected slides, music, American Sign Language, and other performers, including the "rave band" burste. In 2003, he appeared as The Conductor in Mary Kite's adaptation of Peter Greenaway's "Water Plays" at the Dairy Center for the Arts in Boulder.
His Dangerous And Difficult Art Productions presented over two dozen free art events in Boulder, Denver, and Taos between January 1995 and January 2000. With an arts grant from the Neodata Endowment in 1998, he produced a week-long Stan Brakhage Film Festival in Boulder, which was chosen as "Westword" magazine's "Art-Film Festival of the Year." He has also produced large-scale, high-budget art events such as the final "12th Night" celebration for the Arts and Humanities Assembly of Boulder in 2000. In 1985, he produced the William Burroughs Festival (featuring Allen Ginsberg, Gregory Corso, Anne Waldman, William Burroughs, Eric Mottram, and Burroughs' biographer Ted Morgan) and the One-World Poetry Festival (featuring poets representing four continents and twelve countries including Nanao Sakaki and Amiri Baraka) for Naropa Institute's Summer Writing Program.
He has produced several cable TV documentaries, including "The Task" (on the poet Jack Collom); a three-night retrospective on the films of Stan Brakhage, featuring an original two-hour interview with Stan Brakhage and filmmaker Joel Haertling, which was nominated for a Community Service Award (2001); a reading at the Boulder Book Store on the occasion of the publication of Philip Whalen's selected poems (1998); and "Uncaged" at the Boulder Museum of Contemporary Art (1998), a performance of the words and music of John Cage, featuring Anne Waldman and four musicians. In 2012, he produced the video of a reading by Thurston Moore and Anne Waldman at the Laughing Goat Coffeeshop in Boulder.
He has a BFA in Poetry (1983) and an MFA in Prose and Poetry (1991) from Naropa University, a degree from the American Booksellers Association's Advanced Bookselling School (1978), and was a graduate of the second class of Primordial Sound Meditation instructors for Deepak Chopra (March, 1997).
From 1997 until June 2015, he worked as a producer and editor at Sounds True, an audio book publisher in Louisville, Colorado, where he has worked with spiritual teachers from many traditions, including Buddhists Robert Thurman, Tara Brach, Joseph Goldstein, Pema Chodron, Thich Nhat Hanh, and Lama Surya Das; neuroscientists Dan Siegel, Rick Hanson, and Andrew Newburg; Lakota Elder Joseph Marshall; Eckhart Tolle; Thomas Moore; Terry Tempest Williams, and the audio archives of William Burroughs, Alan Watts, Allen Ginsberg, and Krishnamurti. He has also worked with and produced musicians including Thurston Moore (Sonic Youth), Layne Redmond, Jane Siberry, October Project, Hans Christian (of Rasa), David Darling, Krishna Das, and Deva Premal. His blog on his life as a producer is available through manyvoices.soundstrue.com/author/randyr
He edited A Lamp in the Darkness: by Jack Kornfield, who wrote in his acknowledgements: "Enormous gratitude to poet, editor, and steward of the Dharma Randy Roark for creating this book out of complicated oral teachings in a lucid and user-friendly form."
He has also worked with psychedelic artist Alex Grey on The Visionary Artist and has one of the largest collections of psychedelic art in private hands, featuring over 300 different pieces.
He retired in June 2015 in order to work on the over 3000 pages of written material he created during his 10-year traveling project, and to begin his next: a five-year period of traveling with no fixed address as a wandering art sadhu. In April 2015, he also revived DADA Productions (beginning with his trip with Layne Redmond's ashes to Greece in April-May 2015) and Laocoon Press (with catalogs of his collection of hand-painted Nepalese religious paintings for a charity raising funds to rebuild the thangka painting workshops in Nepal, and a 500-page catalog on his collection of psychedelic art in celebration of the 50th anniversary of Bill Graham's first dance concert in San Francisco on November 6, 1965).
He has two children—Christopher of Somerville, Massachusetts, and Maelle of Boulder, Colorado—and lives with Max, the world's largest cat.