Randy Roark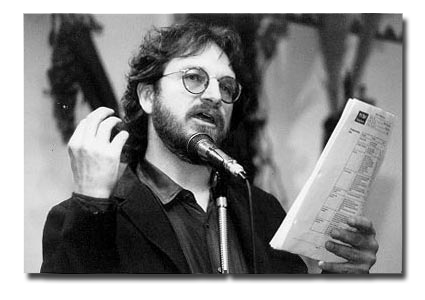 Came to Boulder in November 1979 to apprentice with the poet Allen Ginsberg as he assembled his Collected Poems, and continued to work in various capacities with the poet until Ginsberg's death in 1997. He has transcribed, edited, annotated, and indexed over 28,000 pages from Ginsberg's lectures on poetry, and edited portions of this material into an unpublished manuscript on William Blake's Songs of Innocence and Songs of Experience. He also edited the booklet accompanying Ginsberg's 4-CD retrospective ("Holy Soul Jelly Roll") for Rhino Records, in addition to many other articles and texts published in various magazines and books, including an entire issue of "The New Censorship." He has studied the poetry of Ezra Pound with Olga Rudge and Mary deRachewilz at Brunnenberg Castle in Dorf Tirol, Italy; the writings of James Joyce with the author's nephew in Dublin, Ireland; and the work of poet Philip Whalen at his Zen center in San Francisco. He served as board member (1998-2000) and vice-president (2000) of the Arts and Humanities Assembly of Boulder.
He is the author of Elegies (Elik Press, 2004), S.F. Notebooks (Elik Press, 2003), ), Jean Cocteau: The First Half (Laocoon Press, 2003—a DVD which opened Hofstra University's Jean Cocteau Film Festival in October 2003), Dissolve: Screenplays to the Films of Stan Brakhage (Cityful Press, 2002; a recommended title by Small Press Distribution in January 2003, and featured on their catalog's cover Spring-Summer 2003), Mona Lisa's Veil: New and Selected Poems, 1979-2001 (Baksun Books, 2002), Dialogue of a Hundred Preoccupations (with Tamra Spivey, Laocoon Press, 2002), One Night (with Anne Waldman, Nest Egg Books, 2001), Hymns (Dead Metaphor Press, 2000), and Awakening Osiris (Selva Editions, 1996), His long poem on alchemy, "A Map of the World," (from A Map of the World, Laocoon Press, 2001, to be republished by Elik Press in 2005) was selected for a special presentation at the International Congress of the University of Aarhus, Denmark, in December 2001. First Thought, Best Thought (a collection of four lectures by Allen Ginsberg, William Burroughs, Diane di Prima, and Anne Waldman) was released as a 4CD set by Sounds True in 2004. Since 1991, he has published over 40 volumes of original prose and poetry and art criticism under his Laocoon Press imprint.
His literary arts magazine, "Friction" (1983-1996) was nominated for a Pushcart Prize by Robert Creeley in 1985. His poetry, prose, interviews, and essays have appeared in numerous anthologies, including Once Shamans, Now Poets (Scotland, 2004), Poems from Penny Lane (2004), A Poet's Alphabet (Tree House Press, 2000), Disembodied Poetics (University of New Mexico Press, 1996), Locomotives and Sunflowers (Nada Press, 1997), A Vow to Poetry (Coach House Press, 2001), A World of Poetry (A World of Poetry Press, 1976), In Memoriam Allen Ginsberg (Wright State University Press, 1997), Battery: Live at Naropa 1974-2002 (2003), a live CD anthology by Anne Waldman; and "Rattle Up a Deer": Bernadette Mayer and Anne Waldman Live at Penny Lane (2003); and Views, a collaborative work with artists and poets Tree Bernstein, Darrin Daniel, and Laura Wright (Tree House Press, 2002). In 2001, he guest-edited an edition of "The Arts Paper" on the history of Boulder poetry.
He has lectured at the University of Colorado (Boulder), Metropolitan State College (Denver), and Naropa University (Boulder).
He has performed widely, incorporating the use of projected slides, music, American Sign Language, and other performers in both the U.S. and abroad, and has performed live with the rave band burste and appeared as The Conductor in Mary Kite's adaptation of Peter Greenaway's "Water Plays." His Dangerous And Difficult Art Productions presented over two dozen free art events in Boulder, Denver, and Taos between January 1995 and January 2000. With an arts grant from the Neodata Endowment in 1998, he produced a week-long Stan Brakhage Film Festival, which was chosen as Westword magazine's "Art-Film Festival of the Year." He has also produced large-scale, high-budget art events such as the "12th Night" celebration for the Arts and Humanities Assembly of Boulder in 2000.
He has produced several cable TV documentaries, including "The Task" (on the poet Jack Collom); a three-night retrospective on the films of Stan Brakhage, featuring an original two-hour interview with filmmakers Stan Brakhage and Joel Haertling that was nominated for a Community Service Award (2001); a reading on the occasion of the publication of Philip Whalen's selected poems, and "Uncaged," a performance of the words and music of John Cage, featuring Anne Waldman and four musicians.
He is presently a producer and editor at Sounds True, an audio book publisher in Louisville, Colorado, where he has edited, among others, Jack Kornfield, Alan Watts, Krishnamurti, Pema Chodron, Joseph Goldstein, and Lama Surya Das. He has two children—Christopher of Somerville, Massachusetts, and Maelle of Boulder, Colorado—and lives with Max, the world's largest cat.